ARTOSI summer bonus
Free screen roller shutter with the ARTOSI bioclimatic pergola
ISOTRA a. s. has prepared for its end customers a special campaign – "FREE SCREEN ROLLER SHUTTER WITH THE ARTOSI BIOCLIMATIC PERGOLA".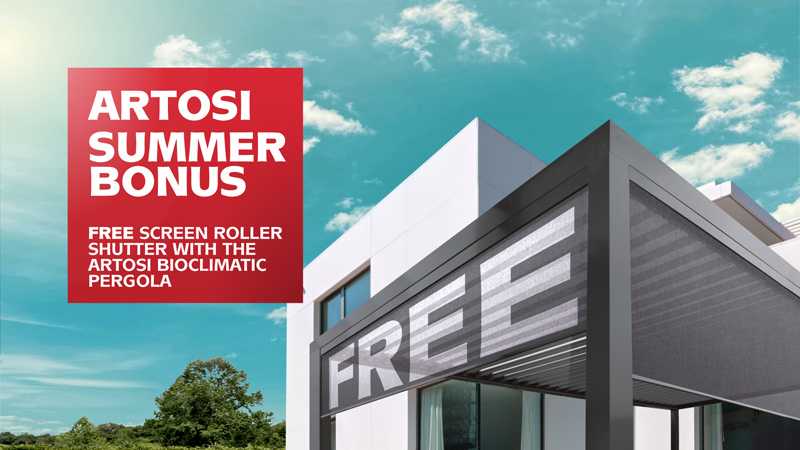 The bonus screen roller shutter (hereinafter the "BONUS") is available for each binding order of the ARTOSI pergola placed and confirmed by the customer within the ISOTRA Partner or ISOTRA ARTOSI Partner retailer networks, or with any retailer of ISOTRA a. s. from September 1, 2022 to September 30, 2022. The offer applies to the ALFA-ZIP and ALFA PLUS-ZIP screen roller shutters.
The BONUS can be obtained based on the rules specified below:
The customer will place a binding order for the ARTOSI pergola during the validity of the campaign.
In addition to the ARTOSI pergola, the customer will place a binding order for at least 2 (two) screen roller shutters specified above.
At all times, the following will apply: only 1 (one) screen roller shutter from the total number of screen roller shutters ordered is for free.
At all times, the BONUS will apply to a screen roller shutter with the smallest surface area in m2.
A precondition for obtaining the BONUS will be generating a unique code at www.artosi.eu/konfigurator. The customer will use said website to configure the ARTOSI pergola including the screen roller shutters. As part of the last configuration step, before placing a non-binding demand, the customer will have an opportunity to generate a unique code to obtain the BONUS. The total price for the ARTOSI pergola and the screen roller shutters will automatically adjust after obtaining the unique code. The price will be inclusive of VAT, without installation
After sending the non-binding demand, the customer will receive an e-mail summarising the pergola configuration, including the unique code for retrospective checking. We will gradually forward individual requests to you, our business partners, to contact the customer back and clarify the request.
In order to receive the BONUS, it is necessary that you enter the unique code of the end customer in the order, and based on its verification in the system, we will reduce the price of the order by the screen blind with the smallest m2 area. Enter the unique code as a note in the heading of the order on the e-shop.
Unique codes for obtaining BONUS must be used no later than November 30,2022.
Detailed rules of the event for the end customer can be found here.